The most sold car in Japan receives one of the most expressive tuning packages for appearance improvement, thus, under quite reasonable price.
Suzuki WagonR — the most popular car in Japan
Suzuki WagonR throughout several years is the leader in a rating of sales of cars in the homeland in Japan. Popularity of a minicar, equipment the engine in volume 660 cubic sm does not weaken, despite proceeding general falling of sales in home market of Japan, but the new package for appearance improvement can help to make the car even more popular.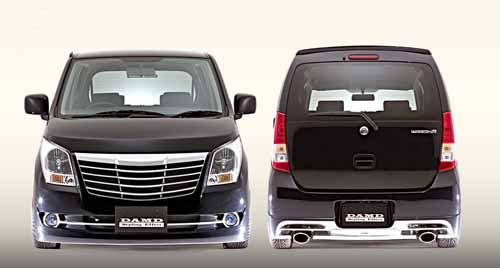 The Japanese studio DAMD known, in particular, for the love to tuning of cars of a so-called class kei, makes the next working out on the automobile market. To change shape WagonR it's offered by means of enough standard set of the elements executed, nevertheless, with feeling of style and a measure.

The structure of a package for appearance completion includes forward and back bumpers, overlays on thresholds, a spoiler on the fifth door. All can be got it both separately, and together (the complete set is on sale in Japan 155,400 yens, including taxes). 17-inch carbon wheel disks from catalogue Crimson (model X 15) with a rim painted in orange colour (other colours are accessible also) are offered also.
Besides styling elements there are also some signs of technical tuning, for example, the truncated springs reducing a road gleam, more rigid shock-absorbers and sports system of release from stainless steel.
Tuning for Suzuki WagonR
The complete sets improving head light are developed — it is possible to complete the car with exclusive lamps IFF for a passing light/headlight light-emitting diode antifog headlights. For salon armchairs under mark Mono x Bros, belonging DAMD, and also various variants of change of registration of the forward console and door panels are offered.
Related Posts: Suzuki
VIA «Tuning studio DAMD has finished a minicar Suzuki WagonR»