The little more, than one year ago, BMW has promulgated photos and characteristics of the updated sedan of 3rd series.
And here time coupe has already come and cabriolet BMW of 3 series to prove to be.

However at present curiosity of potential buyers remains not completely satisfied — the company does not open neither the technical information on novelties nor additional characteristics. It is necessary to be content small and to wait for the official premiere coupe and cabriolet BMW of 3rd series on a motor show in Frankfurt which will take place in September, 2009.
Spies of group CarPix have photographed test prototypes updated coupe and cabriolet BMW of 3 series, writes WorldCarFans. As writes the edition, the model has received a new back bumper and light-emitting diode lanterns.

It is expected, that on the market updated coupe and a cabriolet of 3rd series will arrive in September of this year. According to the edition, at model the ruler of engines can exchange also.

There is a probability, that following old tradition, BMW after to novelties will develop also the new engine or will finish one of already existing. But besides, exact data will be known not later than September presentation of models.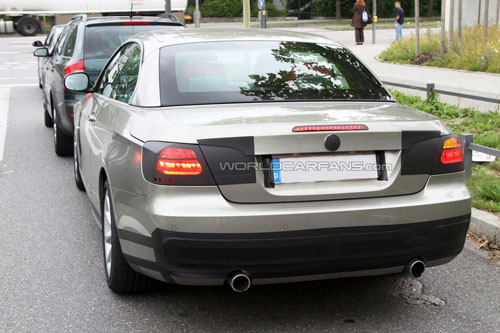 Related Posts: BMW