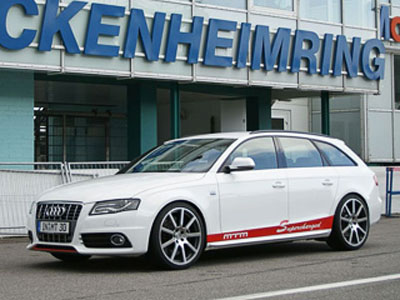 Probably, works at the companies specialising on operational development of cars Audi, above a roof.
Otherwise how to explain, what in September till now anybody and has not dared to improve debuting family of the «charged» sedans and versatile persons S4 of new generation? And now tuning firm MTM has reached this model.

Experts of it have jerked studio at once straight away. Already initial package of completions lifts return of «compressor» motor V6 3.0 TFSI from 333 forces and 440 Nm to 430 «horses» and 515 njuton-metres.

Achievement of so impressive result has not demanded enormous work — tuners have only put managements new the program of motor M-Cantronic and final system.
Dynamic characteristics, by itself, have changed seriously. For example, dispersal to hundred has decreased for the four tenth seconds (4,7).

But engineers on it have not calmed down. To smooth consequences of intoxication in the speed are called the changed brake system with eight-piston supports. The complete set also includes an adjustable suspension bracket of own working out. Certainly, efforts of experts of studio MTM are not free.

For all improvements you will ask almost 15 thousand euro from which 3075 euros follow motor «strengthening».

Related Posts: Audi