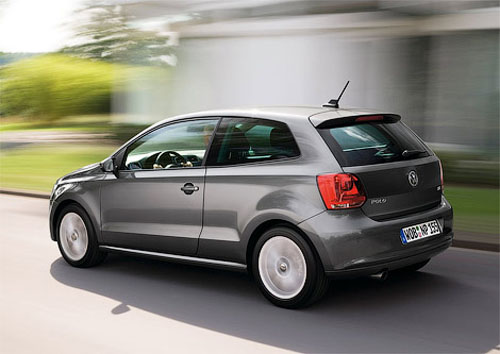 Company Volkswagen has officially presented three-door updating of hatchback Polo of new generation.
As they say in the press release, the car will be presented general public on September automobile show in Frankfurt, and sales in the European car market will begin in the autumn, after a while after a debut.

Novelty overall dimensions are identical to five-door updating: the length and width of the car make 3970 and 1682mm accordingly, that on 36 and 32mm more than at the predecessor. Thus the volume of a luggage compartment at Polo at the combined back seats makes 952 litres. Unique differences of a novelty from the predecessor are wider forward doors and the dynamical falling line of a roof giving to the car a kind coupe.
VW Polo it will be offered with seven engines.
The scale will include three petrol atmospheric motors in volume of 1,2 and 1,4 litres power 60, 70 and 80HP, and also about a 105-strong 1,2-litre turbine unit (will appear a little later).

Also the car will be accessible with three diesel engines power from 75 to 105HP. In scale of transmissions of a novelty — mechanical transmissions and seven-high-speed "robot" DSG with two couplings. We will notice, that in the beginning of next year supereconomic version Polo — BlueMotion, — equipped with a three-cylinder 1,2-litre diesel engine, system the "start-stop", the special aerodynamic elements of a body reducing resistance to the running stream of air also will be presented. According to VW, the average expense of fuel of such car will make about 3,3 litres on hundred kilometres of run.

The prices on Polo in Europe will begin from 12 thousand 150 euros. Top version Highline will manage to buyers in 15 thousand 900 euros.
Related Posts: Volkswagen