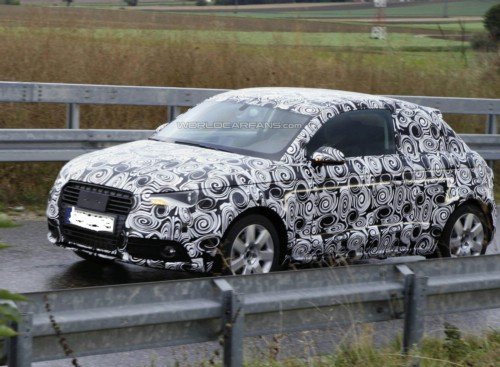 Today paparazzi have given to the automobile public the first photos of prototype Audi A1 which has started the test program, and it can mean only one — to a debut of serial version Audi A1 remains not so a lot of time.
Firm lattice of radiator Audi
Engineers Audi have tried to disguise prototype A1 under model BMW for what even have closed a car body a firm black-and-white camouflage of the Bavarian concern, but the firm lattice of radiator Audi has declassified the car.

On the first photos of a novelty experts have drawn a conclusion that wheel base Audi A1 is little bit longer, than at competitors. Earlier in the German company declared, that A1 will arrive on the market in several variants of a body. Except 4- and a 5-door hatchback, Audi plans to make: cabriolet, universal and crossover A1.Power ruler Audi A1 will please with the variety. In a standard complete set the model will receive a forward drive, but family A1 top version, most likely, begins to be offered with system of a full drive.
Audi A1 by Metroproject Concept
Design of model will execute on motives of conceptual car Metroproject Concept. It's expected, that next year in March the novelty debut will take place, and sales in the autumn will begin. A guiding price: £11,000.
Related Posts: Audi